Top Screened In Porch Design Ideas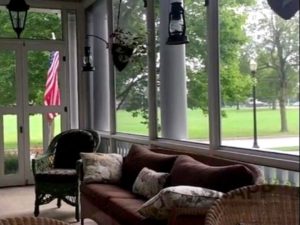 Your porch can serve a variety of purposes - whether you use it as a gathering place during family events, or as a place to relax and unwind with coffee and a good book, screened in porches are undoubtedly one of the most cozy and attractive places in a home.
You get the comfort of feeling like you're outdoors with the abundance of light, wind and sound, while also enjoying the benefits of being protected against the rain and those pesky insects. Looking for ideas and inspiration to build and decorate your screened in porch? Here's a short list of ideas ...
Large Porch Design Ideas with Screen
There are so many ways to pull off the screened-in porch design. Important elements to consider while decorating your new space include comfortable furniture, plants, lighting and maybe even a fireplace or grill. Here are a few porch ideas with screens ...
Charming Farmhouse Design
For this screened in porch design, you'll want to bring those outdoor elements in with a cozy couch, burlap throw pillows, a bold area rug for a pop of color and other rustic accessories. Use an old watering can as a flower vase and a cozy thermal blanket perfect for relaxing no matter what time of day it is.
Nature-Inspired Design
Inspired by nature, this screened in porch design features natural elements and materials throughout. A rock fireplace with stacked wood will make your porch feel warm and welcoming. Use natural wood furniture for seating and consider a jute rug to tie it all together.
Classic Nautical Design
This classic take features a color palette consisting of blue, white and beige. It's the perfect "beach scene" even if you are nowhere near the water. Add in pops of blue with accent pillows, floral centerpieces and a bold rug.
Screened in Back Porch Ideas
A back porch is a more casual space and often more versatile. However, it can make for a great place to extend your kitchen and entertain all while enjoying all that nature gives us. Take a look at the following screened-in back porch ideas you're sure to fall in love with.
Rustic Dining Space
Turn your screened-in back porch into the perfect dining area. Your family can enjoy a delicious dinner with a gorgeous view. Add rustic touches to this space for a warm and cozy environment with a wooden table, wooden bench and string lights - don't forget to install a ceiling fan.
Home Entertainment Area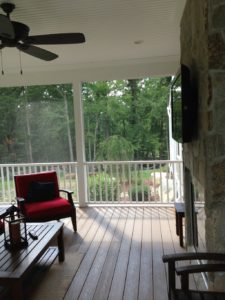 A screened in porch is a great space for entertaining, since your guests can enjoy their time and check out the views. Install a flat-screen, music center, and maybe even a fireplace. Be sure to add ample seating and finish off the space with a large center table for everyone to gather around.
---
Small Porch Design Ideas with Screen
Most people think you need a large porch to have a built-in screens. However, you can design your perfect screened in porch no matter how big or small your space is. When building and decorating your small porch, you'll want to ensure you choose weather-resistant pieces and minimal furnishings. A trendy coffee table, two accent chairs and a rug are the perfect elements of a small porch design. Here are a few screened in porch ideas for smaller spaces:
A Coastal Patio
When working with a smaller space, consider built-in fixtures like bench seating and shelving. Incorporate a bold pop of blue, navy or teal for a coastal vibe that stands out in this small space. Use garden stools that can serve as both tables and seating to maximize your porch's potential.
Porch Party of Two
Is your porch only suitable for two people? Choose a simple color and pattern to make your tiny porch look wider. Place two chairs between an end table for a cute and quaint space fit for two.
Lounge in Comfort
If you prefer for your lifestyle to be more chill and relaxed, opt for a small sofa in front of a larger window of your home. The large window will make your porch appear larger in size. Add a few potted plants, a small bar cart and extra lighting to really lounge in comfort (and style).