Professionally screen your porch, patio or deck
with nothing more than some basic DIY skills and a free weekend
• Suitable for all residential, commercial or industrial screening applications •
• Easily attaches to your structure or any prefabricated frame •
• Openings don't need to be square, plumb or even level •
A screen porch, patio or deck is a great addition to any home. It adds value to your property and increases your quality of life greatly. Nothing beats the ability to enjoy the outdoors and not be bothered by nuisance pests and biting insects. SNAPP® screen now makes a screen porch, patio or deck screening project far less complicated for the screen professional as well as the home DIY'er. This patented (US 8,484,926) screening solution is a great choice for any screen porch, patio or deck screening project as well as an unlimited array of other specialized screening applications.
SNAPP® screen is the 1 PIECE screening
solution that adapts to any shape
- Including trapezoids, triangles, and arches -
NO

cold temperature restrictions
NO caps or covers to cut


NO

caps to hammer in place


NO

expanders or adapters to install


NO

corners to install


NO

secondary parts to install

SNAPP® is

EASY

to install...
· Cut extrusion to size
· Mount extrusion in place
· Install screen
· YOU'RE DONE !

SNAPP® is

EASY

to repair...
· Pull out spline and screen
· Install new screen
· YOU'RE DONE !
Don't waste your time and money using our competitor's multiple component and multiple step screening systems. SNAPP® screen has become our top selling screening line because professional results can be easily obtained by both the trade professional and home DIYer. And best of all, it works great and is simple to install.
Almost every screening problem can be solved with SNAPP® screen. It is specifically designed to be adaptable to a wide spectrum of screening situations and will work with almost any shape or size opening. SNAPP® screen is available in extruded PVC and commercial quality extruded aluminum. Both styles are also color matched so they can be used together if needed.
The patented SNAPP® screen extrusion measures only 1/2" wide making it nearly invisible after installation. It's designed to be butted (spliced) together for runs over stock sizes. SNAPP® screen can be installed to any base material and it easily attaches directly to the structure or any prefabricated frame. SNAPP® screen can be installed inside or around the opening, on the interior, exterior, with miter or butt corners or a combination of all features.
2x Extreme How-To Magazine
"Hot Product"
Typical Uses
• Porches • Patios • Gazebos •
• Boats • Play Houses • Hotels •
• Schools • Vent System • Cafeterias •
• Insectariums • Laboratories • Restaurants •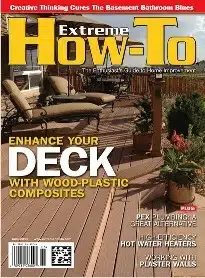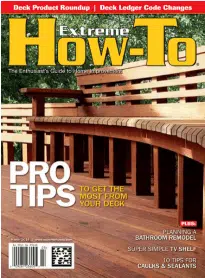 • SNAPP

®

screen is extremely simple to use and

NO

special tools, equipment or skills are required •
•
Professional results can easily be obtained by both the trade professional and home DIY'er

•

Any standard screen material can be installed into SNAPP® screen but fabrics work best simply for ease of installation. Of the fabric
screen materials available, polyester materials are highly recommended due to their strength, durability and useful life span.
SNAPP

®

screen Product Spec Sheet