Screen Porch Projects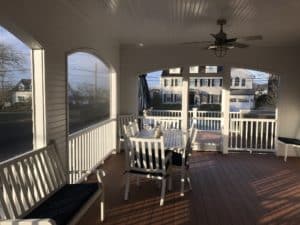 Many homeowners are concerned about their home's value and maintain it in such a way that its resale value increases. Applying a fresh coat of paint or replacing an old furnace are typical ways to add value to a home.
Another way to do this is to screen in a porch. With new methods, this has become a simple DIY project that can be completed with basic skills. SNAPP® screen is one of those new methods and it makes screening in your porch, well, a "Snapp". This will give you an attractive, and enjoyable screened porch and provide a new place for your friends and family to spend time making memories.
How Easy Is Easy?
Some project planning is required but with only some basic DIY skills, you'll be able to professionally screen in your porch with SNAPP® screen. Simply follow three simple steps:
Cut extrusion to size.
Mount extrusion.
Install the screen.
See complete planning and installation instructions (with videos) on the Screen Porch INSTALLATION page.
Why Screen In Your Porch?
Screening a porch has several advantages: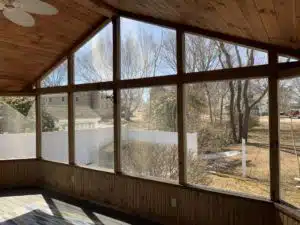 • Prevents exposure to insects, like biting flies and stinging insects.
• Provides a bug free outdoor area for children and pets.
• Adds character to the house.
• Increases privacy.
• Helps protect porch furniture from birds and rodents.
• Provides a more useful and enjoyable porch area.
Where Can I Use SNAPP® screen?
SNAPP® screen works for back porches and front porches. It can turn a covered deck into an outdoor room without the pests. It turns an upstairs covered balcony into a summer sleeping porch. It works for playhouses, gazebos, and other outbuildings. It's adaptable to almost any size and shape you need for the unique area you want to screen in.
Other Places
SNAPP® screen can be used for far more than porches, too. If you can mount the extrusion you can screen the opening. For hobbyists who maintain insect or herpetology collections, this may be the answer to a tricky display case. SNAPP® screen can easily be used in boats, RV's and so much more.
We Want You To See For Yourself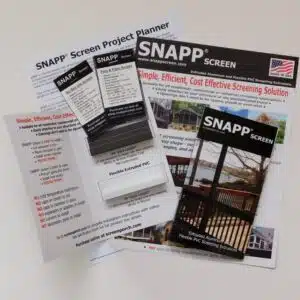 We're happy to provide a FREE SAMPLE so that you can see for yourself. You'll be able to handle the extrusion and see how the extrusion will fit into your application. You'll read about how the system works and how versatile it is from the included literature.
We believe, once you've seen and handled SNAPP® screen, you'll be like the thousands of other customers who've successfully completed their own DIY screen project.